Asbestos is a deadly and hidden danger in home renovations!!
Is there Asbestos in your Home? Where can you find it? Can it harm your health? Should you remove it?
Most of us know that Asbestos was a commonly used building product in Australian homes in the past – primarily in homes built prior to 1980.
Asbestos has since been identified as a dangerous product that has been responsible for causing fatal lung diseases in many unfortunate people.
Thankfully, the mining of Asbestos is now banned, and the use of Asbestos as a building product is also banned.
There are now strict rules and regulations that we must all comply with – to ensure our safety, and safety of others – when removing Asbestos from existing homes.
What is Asbestos?
According to the WA Health Dept:
'Asbestos is the name given to a group of naturally occurring minerals found in rock formations. Three types of asbestos were mined in Australia: white, blue and brown asbestos. Large deposits were mined in Western Australia and New South Wales.'
Why was Asbestos used in Home Building?
Asbestos fibres were used as the asbestos fibres were strong, heat resistant and had insulating properties. These qualities made Asbestos an ideal product to combine with cement products.
Where am I likely to find Asbestos in my home?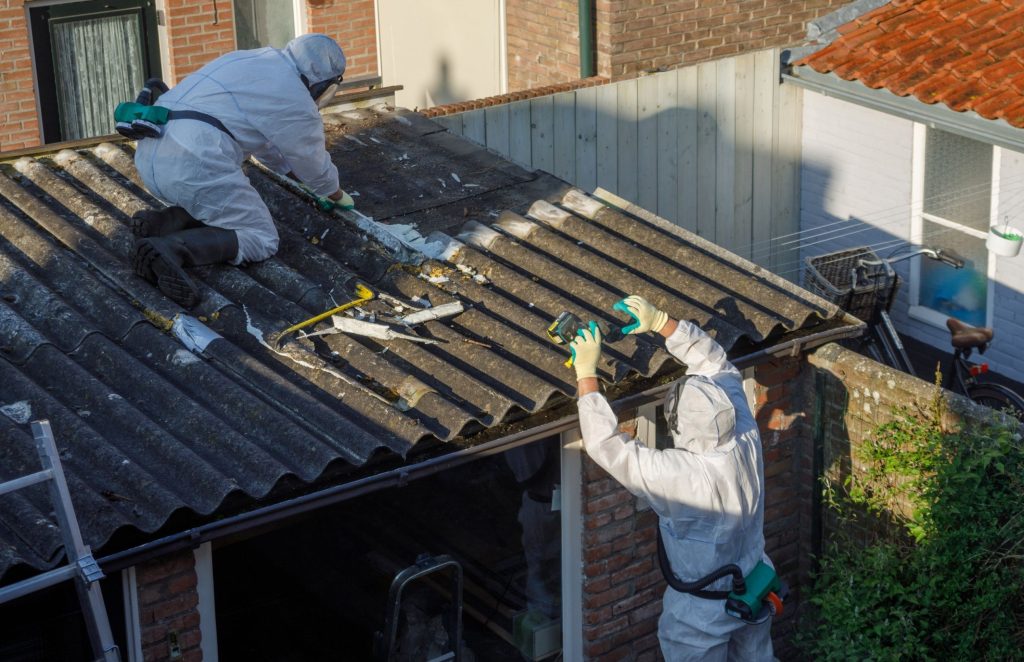 Many houses built before 1980 commonly contain asbestos materials. In fact, Asbestos was only completely banned in 2003, so any home built prior to that may also contain Asbestos.
Asbestos was historically used in areas around the home such as the eaves, internal and external wall cladding, ceilings, backing material on vinyl floors, and areas such as bathrooms, laundries, and fences and more*.*this list is not exhaustive!
Why is Asbestos dangerous?
Over time it was discovered that breathing in asbestos fibres was a major cause of several serious lung diseases.
Once the fibres had been breathed into the lungs, they would remain there and cause inflammation and scarring, and lead to the development of fatal diseases such as Lung Cancer, Asbestosis, and Mesothelioma (a rare form of cancer).
Asbestos is now a banned substance
Mining of Asbestos has stopped, and this dangerous substance has been banned from use in Australia since 2003.
There are now strict rules and regulations around Asbestos and its safe removal and disposal from existing buildings. Asbestos removal is only permitted to be done by an authorised person.
Home Renovators are becoming the third wave of abestos victims
Home renovators are considered to be the third waves of asbestos victims. The people in this third wave are primarily do-it-yourself renovators such as homeowners and also tradespeople working on homes with asbestos.
The first wave mined asbestos and the second wave, mostly tradespeople, worked with asbestos.
Did you know? There is no safe level of exposure to asbestos fibres. Many houses built before 1980 commonly contain asbestos. In fact, asbestos was only completely banned as recently as 2003.
The good news is that asbestos ONLY poses a risk to health if asbestos fibres are breathed in and undisturbed asbestos cement materials DO NOT pose a health risk.
However, it is important to know that once asbestos material that is damaged, disturbed or crumbling, deadly asbestos fibres can be released into the air and this poses a serious health risk to you and others.
Finding Asbestos in Your Home
If asbestos has been detected in your home, an asbestos removal professional MUST be engaged to remove and dispose of it safely. DO NOT attempt to remove it yourself.
Are you not sure whether you have any asbestos? Make the safe decision and contact an asbestos professional to make an assessment before you embark on any home renovation project.
Three Important Facts about Asbestos and Your Health
1. There are no safe level of exposure to asbestos fibres.
2. Asbestos only poses a risk to health if asbestos fibres are breathed in and undisturbed asbestos cement materials do not pose a health risk.
3. Asbestos material that is damaged, disturbed or crumbling may release fibres into the air and is a serious health risk.
What does Amerex do about Asbestos during a Home Renovation?
Where possible we identify the presence of asbestos in the planning stages of your home improvement and renovation project. We then schedule the professional removal and disposal of the asbestos very early, before it is disturbed by other trades.
Safety of everyone working on your home improvement project is of paramount importance, and we follow the government guidelines to the letter.
Should any hidden asbestos be identified after construction or demolition has commenced, the site will be shut down. All trades will be sent off-site until it is professionally removed and disposed of by an Asbestos Removal professional.
Do you want to know more about Asbestos and your home and your health?
You can learn more about asbestos at the Australian Department of Health website.
Reflections is a Perth-founded not-for-profit organisation which is working hard to reduce the impact of Asbestos in the community. They provide education, promote greater awareness, provide a support network for sufferers and promote research into better treatment outcomes. Visit the Reflections website to find out more.